Thank you to Nikki and Kate at Twit Twoo in Edinburgh for taking to the time to seek out such a fantastic venue and welcoming us to Scotland.
 Discussion Topics
 1 Apprenticeships, Training & Schools
 2 Female Genital Piercing
 3 Septum Techniques
 4 Septembers Meet, Venue, Fundraising
 5 Jewellery Finishes, PVD, Anodising
 6 Council Follow-up Forms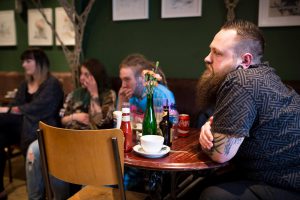 1 Apprenticeships, Training & Schools
 General discussion on entering piercing as a career. As a group it was mostly felt that we would like to encourage Apprenticeships over short paid courses/piercing schools.
 Look into releasing a statement on behalf of the UKAPP explaining our preference for Apprentice based ongoing learning and why we feel this benefit's potential new piercers over other methods of learning.
 Possibly include information for aspiring piercers along with statements from piercers on how they entered the industry.
2 Female Genital Piercing
 Further discussion on FGM (Female Genital Mutilation) with regards to FGP (Female Genital Piercing).
 Amongst the group we spoke about FGP and our own experiences. Who has continued offering them, those that don't currently offer these piercings. Experiences with Local Councils that regulate guidelines in each area and their stances on continuing to offer this service.
 Also customers with existing genital piercings that had had contact with doctors and their experiences.
 It's noted that currently as a group the issue has mostly gone under the radar outside of a few London Boroughs.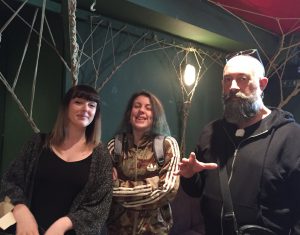 3 Septum Techniques, Needles 
 Forceps versus NRT's, marking, cannular needles or blades needles.
 Whilst we all have our preferred methods, we approach each client depending on their anatomy and discovered that we all make changes based each person.
 Blade needles, various suppliers and advantages/disadvantages. Use of bends in needles for various piercing locations and positioning the needle cutting area when piercing.  
4 September Meet, Venue, Fundraising
 Looking ahead to the meeting 4th September 2016. Birmingham appears to be one of the preferred locations amongst the group for travel.
 It was mentioned that the previous venue may not meet this years requirements with potentially more attendees and speakers. And that it may be worth looking into other venues and possibly enquiring with some of the larger hotel chains on venue hire and if it's offered free or reduced if a number of attendees stay at the hotel.
 Fundraising to cover potential fees for speakers and maybe starting a donation page to contribute to cover costs for the event.
5 Jewellery Finishes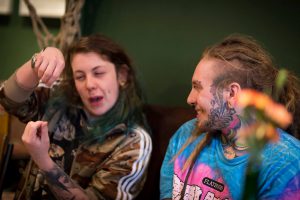 Discussion on finishes of various native and imported jewellery suppliers. We spoke about PVD finishes and how they appear under magnification also.
6 Council Follow-Up Forms
Whilst speaking about unskilled piercers and those that don't have the best interests of our industry at heart. We discussed the potential for a pre-printed form to encourage customers that had had issues or experienced dangerous practises to contact their local councils. Unfortunately most do not know who to contact and this may help councils to identify trouble spots sooner.
Thank you again to Nikki and Kate for finding such a lovely venue. Fantastic food and obscene amounts of Tea & Coffee were consumed.
 Lovely to see some new faces in amongst those we've already met.
  Be sure to look out for Wojciech's photo's too !