Our second annual seminars, this time held over two days in Birmingham September 2016, held record a attendance. After learning so much from last year we readily improvement
Birmingham Sunday 4th & Monday 5th  September 2016
DAY ONE
First up was Brian Skellie with 'Asepsis and bevel theory'
Next up was Paul King addressing 'Female genital piercing versus female mutilation' again a very empowering response.
Following right after was Ryan Oullette teaching us Brits how to 'Upsell jewellery'.
Last of the first day was Luis Garcia providing surface piercing technique.
By the end of the first day, with venue space slowly emptying, the overall feeling was sheer pride tinged with an indescribable energy. What an experience, so many attendees, so many wonderful comments.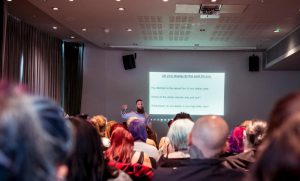 DAY TWO
Began with Ryan Oullette and 'Ear piercing fundamentals'.
UKAPP board to make an announcement.
Luis Garcia to give his last class, 'Advanced ear piercing'.
The event finale had local Matt Lodder