On the evening of Sunday the 17th September, around 40 heavily pierced, tattooed and, dare I say, beautiful people marched through the streets of Birmingham with one purpose in mind. To throw axes. It has been remarked that it was one of the best opening parties to be had and judging from the enthusiasm shown by some attendees let loose with hatchets, I'd have to agree.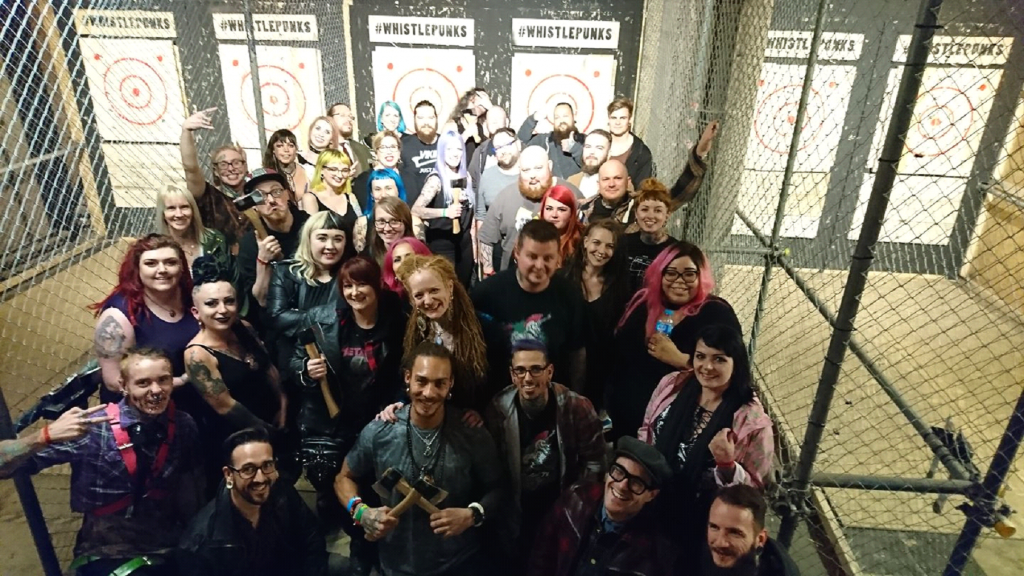 Photo credit: Tyler Thorneycroft – Body Alter & ISUK
It's been a long year of hard work, but the UKAPP board, along with a strong team of volunteers,  we made the 3rd UKAPP conference  our biggest yet. With over 100 attendees (roughly 1/5 of those being official UKAPP members), an extra day added to the run time, as well as a second classroom,  we managed to get a lot packed in!
We had the pleasure of hosting several UK speakers this year, quickly adding to the roster of talented and passionate piercers within our shores, including Lola Slider who co hosted three classes and becoming an instant favourite amongst attendees for her concise and articulate talks ranging topics including needle bending and jewellery anodising, popular points of conversation within the UK professional forums and something even more interesting to see as a practical talk.
"Amazing atmosphere, everyone was friendly." –  

2017 UKAPP Attendee
Another English speaker was so popular, we had to turn people away from their classroom door on the day as we just didn't have enough space to squeeze everyone who wanted to attend into the classroom! Mike Hill had originally suggested doing an informal talk at the bar or in a room with a handful of piercers who had shown an interest in making the transition to disposable tools and equipment, however, after a few discussions, this idea proved popular enough for us to ask Mike to deliver his talk in a roundtable style class. It was a resounding success and has inspired more than a few discussions online since, as well as encouraging many piercers to opt for a new way of working and inspiring others to look a little more closely at how they work within their own studios back home.
Once again, the APP has been a huge support to our organisation and enabled us to invite over even more of their speakers this year including not one, but two presidents, former President Brian Skellie and current President Jef Saunders (with a special thank you to both these attendees who took time out of their incredibly busy schedules to be with us). Brian's in depth talks continue to be the backbone of our conferences, providing a solid base of knowledge (anyone who knows Brian will testify, if Brian doesn't know the answer, then it's likely there isn't an answer, but there is almost definitely an answer if you ask the right questions).
Jef came directly from the Fakir Intensives (classes held in the United States) and taught all three classes on one day. His passion for piercing and education shines through in his classes, bringing fresh insights into our profession. His classes regarding Nipple Piercing as well as the roundtable he hosted alongside Ryan Ouelette and Lola Slider were instant favourites amongst those who attended. Classes focusing on building on core knowledge are something that the UKAPP believe to be incredibly important and Jef provided informative and brilliant lectures which have been received with enthusiasm. 
"It was awesome. Really enjoyed it. Your hard work and commitment is staggering. So impressed." –2017 UKAPP Attendee
We also had the pleasure of having a UKAPP regular, Ryan Ouelette, who has spoken at every one of the UKAPP conferences so far, starting in a small and rather dark venue speaking to roughly 35 attendees, to now hosting classes of 80+ people. His class 'Septums: Where skill meets luck' was met with resounding success, with one attendee stating 'Septums class was a gamechanger!' We hope that next year we'll be able to fit in even more of his popular talks into our seminars.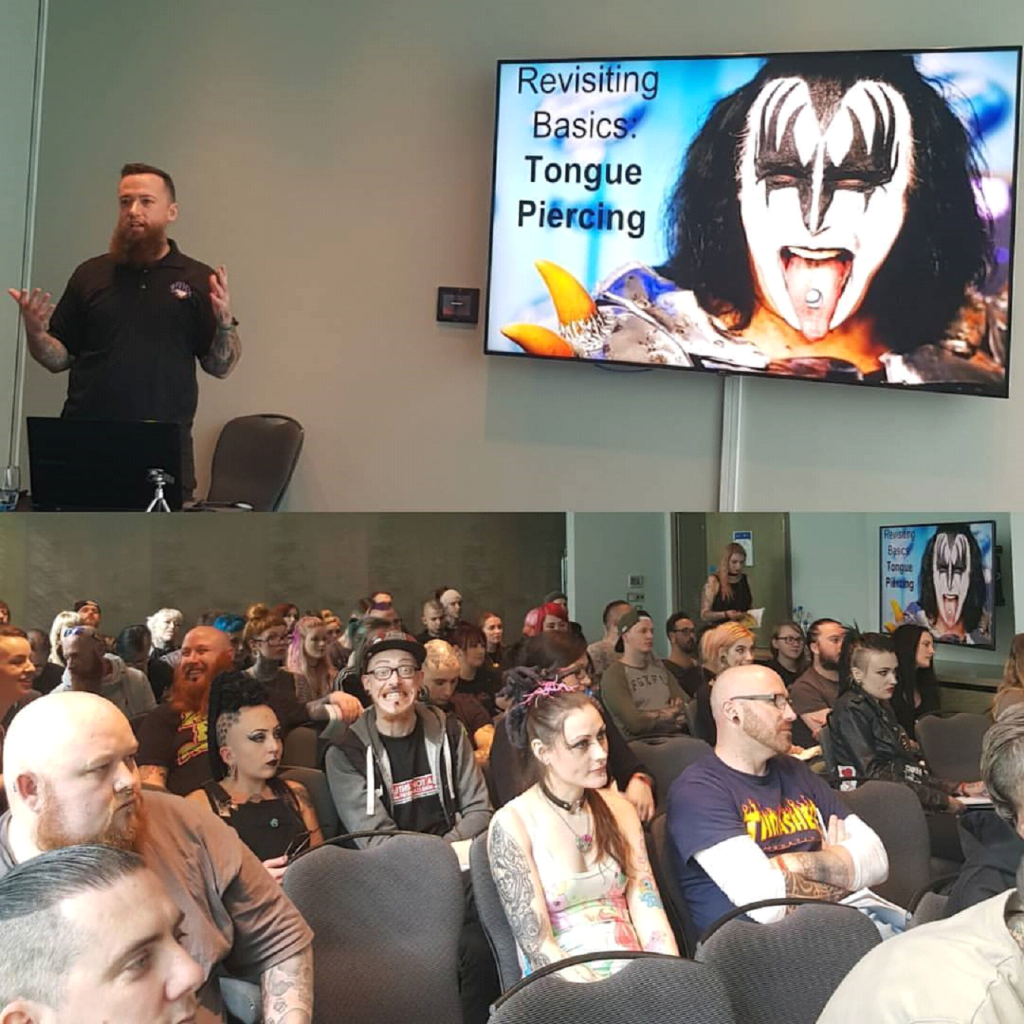 Photo credit: Sebastian Wolfe Pickersgill – Blue Lotus
You may have also noticed Ryan Ouellette, walking around conference and occasionally, stealing one of our speakers, vendors or attendees! If you haven't already seen it online, go check out Ryan's podcasts surrounding the UKAPP conference, including talks with Dr Matt Lodder, a lecturer at Colchester University, about the history of body piercing, chats with Mike Hill about going disposable as well as a discussion with our very own President and Glorious Leader, Nicole Holmes of Blue Lotus in Newcastle.
We were pleased to welcome back into the fold Dr Matt Lodder this year, who gave another fascinating talk about the history of body piercing in the UK. Dr Lodder teaches at Colchester Unversity in the UK specialising in the history of the art of tattooing and body piercing and was an instant hit last year with his in depth discussion about Mr Sebastian and the Spanner Case and this year discussed the Modern Primitive.
Also introduced this year was a mentor program for first time attendees and those who maybe were a little nervous or anxious about attending conference. For anyone who has been to a large gathering of peers before, it can be daunting and humbling in equal parts and the idea of trying to socialise or even ask a question during a seminar, can be anxiety inducing. The mentor program paired up some of the people who requested to have someone who would be able to check in on them, hang out, find the best places to eat and generally be a friendly face whilst they attended the 3 day event. Whilst we are still gathering feedback, the response we have had so far is encouraging and we hope to continue to offer this in the future.
Whilst we all love to learn (#forverleaning), piercers have been known, every now and then, to have a bit of a party and the UK is no exception! This year we held a Rocky Horror Picture Show themed party at the bar within the Raddisson Blu (our venue for the entire event) which went down a storm, with some incredible outfits coming particularly from the team at ADORN, Becky Crossan from INKHAUS and a regular now at UKAPP, Paul King, who is almost never outdone when it comes to dressing for the occasion.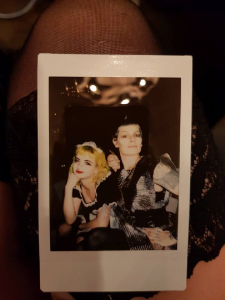 Photo credit: Katie Sweeney – Adorn
Our vendors this years also grew in number and we were treated to display upon display of not only British Jewellers such as Stonewolf, Danila Tarcinale and Alice Ruby, but also many from overseas, such as Lovely Lobes, MAYA, Sacred Symbols and Naga. The team from Industrial Strength UK once more gave us tremendous support this year and blew us all away with their genourosity and their jewellery, enabling everyone to see their products up close and personal (and for a lot of attendees, for the first time in person). They did all this, whilst also celebrating the birthday of the lovely Patrick Kielty, the man behind ISUK, so thank you to Paddy for choosing to continually give your support to our cause.
"I've learned so much, and I felt so welcomed, a part of the UK piercing family! THANK YOU IMMENSELY FOR EVERYTHING!" – UKAPP first time attendee.
Axes, blade bending, anodising, Paul King in fishnets, what more could we want from a conferece?! Well don't worry, we're already thinking bigger! Want to get involved? We are currently taking propsals and suggestions for what you'd like to see at next years seminars as well as accepting new members for the UKAPP (check out our membership page for full details!)
Thank you again to everyone who has shown support for the UKAPP and helping it grow from a chat in Germany between a handful of people, to the organisation we are today that is able to run the seminars, arrange quarterly meet ups and negotiate with suppliers, jewellery companies and vendors to help get the UK piercing scene to where we know we can be.
Special thank yous go out to the volunteers who worked tirelessly to make sure everything ran smoothly and to the friends, partners and families who helped the board members stay cool, calm and collected in the run up.